ANVAROL (ANAVAR)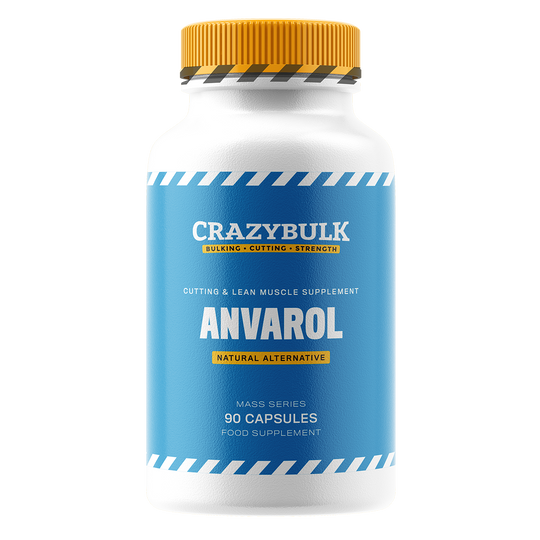 Promotes FAST Fat Loss
Boosts Energy Levels
Retains Lean Muscle
ANVAROL (ANAVAR)
1 x ANVAROL (ANAVAR) + Free
Retail: $79.99
2 x ANVAROL (ANAVAR) + 1 Free
Retail: $239.99 Savings: $110.00
How to Use:
Serving Size: 3 capsules per day
Servings per Bottle: 30
Recommended Use: Take three (3) capsules with water approximately 45 minutes after your workout. For best results, use for a minimum of 2 months.
Recommended workout period: 2 months on and 1.5 weeks off.
SUPPLEMENT FACTS
Serving Size: 3 Capsules
Serving Per Container: 30
Nutrients

Amount per Serving

%DV

Soy Protein

450 mg

*

Whey Protein

450 mg

*

Branch Chain Amino Acids (BCAA) 2:1:1

225 mg

*

Yam (Dioscurea composite)(Root)

150 mg

*


Adenosine 5'-Triphosphate Disodium
(PeakATP®)

120 mg

*
* % Daily Value (%DV) not established
Other Ingredients: Gelatin, Rice Flour, Silica, Vegetable Stearate.
Contains: Soy and Milk products
Contains NO: Sugar, Salt, Yeast, Wheat, Gluten, Corn, Shellfish, Artificial Sweeteners, Colors or Flavorings.
TSI Group Limited is the owner of the registered trademark PeakATP®
Results with our ANVAROL (ANAVAR):
EXPLOSIVE POWER AND PURE, LEAN MUSCLE
Use For:
Cutting cycles, lean muscle retention, strength, energy
What Is It?
A legal alternative to the anabolic steroid Anavar, Anvarol improves your strength and energy by stimulating phosphocreatine synthesis within your muscle tissue. Ideal for cutting cycles, you'll shred fat whilst retaining lean muscle, giving your body a super lean and cut look. Suitable for both men and women.
How it Works
ATP (adenosine triphosphate) gives your muscles the energy needed for them to contract. But your muscles only contain enough ATP to supply energy for a few seconds of movement. For ongoing muscle contraction during your workouts you need more ATP. For more ATP you need phosphocreatine, which helps rapidly regenerate the ATP needed to provide the bursts of energy you need when lifting weights.
Our Anavar Oxandrolone alternative increases your phosphocreatine levels, helping to create ATP faster and giving you the energy needed to push harder and longer during your workouts.
Use Anvarol during cutting cycles to shred fat without water retention for a cut and defined physique.
Anvarol gives you the ongoing energy and explosive power you need to push your workouts harder and longer whilst shredding fat for a harder, sharper, leaner body.
SAFE & LEGAL

 

Anavar Alternative
EXPLOSIVE

 

Power & Strength
INCINERATE

 

Visceral & Subcutaneous Fat
PRESERVE

 

Lean Muscle when Cutting Calories
IMPROVED

 

Muscle Hardness & Density
ENHANCED

 

Vascularity
NO

 

Needles or Prescriptions
RAPID RESULTS

 

Within 30 Days
FREE

 

Worldwide Delivery